Jersey airport to replace radar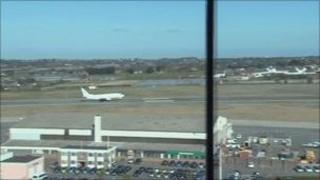 Jersey airport will be replacing its primary and secondary radars at a cost of about £4m.
Jersey's airport authority said the existing radars at Les Platons on Jersey's north coast were "beyond economical repair".
They said the system also had to be updated to remain safety compliant.
Sandy Sawyer, airport operations director, said the upgrade was unlikely to disrupt airfield operations.
Ms Sawyer said: "The primary and secondary radars are vital to airfield operations and provide an essential tool from which the air traffic controllers work to control aircraft in Channel Islands airspace.
"Not only are they now beyond economic repair but incurring increased maintenance costs as spares are no longer manufactured. Added to which, the secondary radar will no longer be compliant at the end of 2011."
The work will see the radar site moved from Les Platons to the existing radar tower on the western side of the airfield in St Peter.