Southampton Hotel in St Helier could be revamped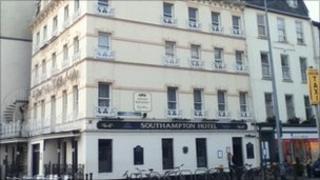 Developers are hoping to revamp the Southampton Hotel in St Helier.
The original 19th Century facade could be restored in the proposed development.
Jersey property developer Comprop has applied to knock three separate units of the existing hotel into one.
The new five-storey building would be similar in height to the roof buildings of its nearest neighbour the Pomme d'Or Hotel.
It could include a ground floor restaurant with the possibility of offices above.
Steve Marie, managing director of Comprop, said: "The Southampton is significant to Jersey's history.
"Not only does it have a place in the development of St Helier but, since Liberation day on 9th May 1945, the façade has become part of the recognised face of the end of Jersey's Occupation.
"At the moment it is in a very poor state of repair. However, we are going to incorporate and enhance many of the original features, as well as making the building usable in all its aspects.
"It is another example of private investment into the Jersey economy - providing much needed work for the construction industry.
"Through this project we aim to restore the Southampton building to its unique and proper place in history and for its legacy to continue long into the future."