States of Jersey report norovirus outbreak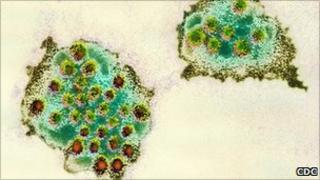 There has been an outbreak of the norovirus vomiting bug in Jersey according to the States of Jersey health department.
People who have been sick recently are being asked not to visit hospital.
Norovirus is highly contagious and the symptoms include stomach ache, sickness and diarrhoea.
Consultant microbiologist Dr Ivan Muscat said good personal hygiene and a clean kitchen and toilet was the best way to stop the spread of the bug.
Dr Muscat said while the virus was not yet widespread, it was important to make sure it did not spread further.
He said he was particularly concerned about it being spread in hospital.
The health service is asking anyone who has been vomiting or had diarrhoea in the past two days not to visit hospital.