Jersey politicians told to ignore builders over housing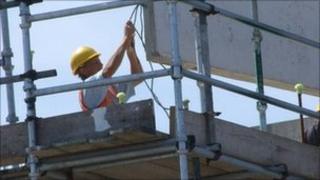 Jersey's politicians have been urged to ignore calls from developers to vote against an affordable housing plan by the planning minister.
The plan would require developers to include affordable housing in any large development alongside other housing.
It is part of the Island Plan, a document that outlines land use in Jersey for the next 10 years.
Senator Freddie Cohen said members should not be persuaded by campaigning from landowners and developers.
Representatives for the building industry raised objections to the affordable housing provision in the island plan.
Affordable housing
The provision requires developers to contribute homes or money to provide new affordable housing.
The Jersey Construction Council described the plans as "unworkable" and said it would impact badly on the construction industry.
Michael Stein, owner and managing director of Jersey architect MS Planning, said he did not think this was the right approach to solve the social housing problem.
He said: "Previous Island Plans have demonstrated that the only way to meet social housing needs is by using appropriately located redundant glasshouse or greenfield sites, which offer a viable economic return for the landowner and developer.
"These sites also provide a far better way of life for the residents."
Senator Cohen said that developers had been lobbying members over affordable housing provisions and the amount of land made available for development in Jersey.
He said: "Tens of millions of super profits will be made on the basis of the decisions we make over the next few days.
"It is my contention that we don't need to re-zone much land in the countryside, it is my contention that we should provide for any shortfall in the early days of the plan by delivering affordable homes on States owned land.
"It is my contention that we should not be influenced by the cries of the beneficiaries of multi-million profits through re-zoning."