Jersey fire service commissions new wildfire tool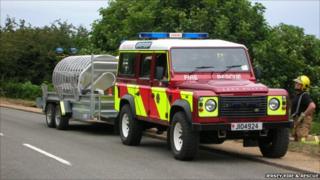 A fire hose-laying appliance designed and built in Jersey is being tested by the Jersey fire and rescue service.
The service said that with an increased risk of wildfires, they need a tool that would allow them to get large amounts of water to an area.
Jersey company Agri Co won the tender with a system that can put out at least 4,000 litres of water per minute.
Chief fire officer Mark James praised what he said was a Jersey-based solution to their problems.
"We couldn't find what we needed anywhere, so we turned to Jersey engineers to build us a tool that meets as many of our requirements as possible.
"The final product is a very impressive and cost effective solution to deploying fire hose quickly over a large distance.
"I expect that this innovative hose-laying system will generate interest in Fire Services facing similar problems from around the world."