Chinese company to invest in Jersey research facility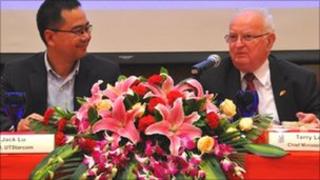 Jersey Telecom have confirmed a Chinese company will invest in new telecoms research facilities in Jersey.
An agreement has been signed between Beijing-based telecommunications company, UTStarcom and Jersey Telecom.
Jersey political and business representatives are in China to create closer ties with the world's second largest economy.
On Monday a memorandum of understanding was signed between the two telecoms companies.
A partnership already exists between Jersey Telecoms and UTStarcom, but it is hoped this agreement will strengthen that.
'tremendous ambition'
James Lu, CEO of UTStarcom, said: "UTStarcom has considered JT to be an important customer from the beginning of 2008 and has since built a strong relationship."
He added: "Given the Gigabit Isles strategy and the attractiveness of Jersey as a business location, we believe that building a joint R&D and testing facility in Jersey will best suit our commercial needs."
The companies will work together to research, test and develop new services to market around the world.
Senator Terry Le Sueur, who witnessed the signing, said it would bring significant investment to the island and raise Jersey's international profile as a base for business.
He said: "It is encouraging to already see such concrete results from our ties with China. Companies like UTStarcom will bring significant new investment to Jersey while also raising our profile as a well-established and well-regulated base for foreign businesses to conduct their operations in Europe."