Jersey campaign over tobacco and alcohol sales to under-18s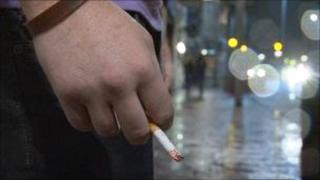 Young people buying cigarettes or tobacco in Jersey will be challenged about their age more often.
A new campaign is being launched in local shops to try to stop people under 18 buying cigarettes.
The "No ID, No Sale" Campaign, run by tobacco importers in Jersey, gave shops selling tobacco information packs.
They hope to make it easier for staff to challenge people who may not be old enough to buy cigarettes, alcohol and other items that require proof of age.
Andrew Heaven, head of Health Improvement in Jersey, said it would give retailers the confidence to refuse to sell to under-18s.
Shops will stock application forms for valid ID cards to allow over-18s to prove their age.
He said: "Tobacco and alcohol can only be sold to somebody over the age of 18 and we know some young people have purchased tobacco and alcohol, and it is important we prevent that."