Jersey man rescued from under tractor wheel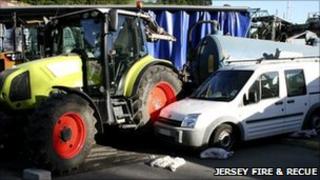 A man had to be rescued from under the rear wheel of a tractor in Jersey.
The man was trapped by his arm under the rear wheel of a vehicle in Bellozane Valley at about 0720 BST.
Fire crews said they stabilised the tractor and another vehicle that had been involved in the incident, while paramedics attended to the casualty.
The man was taken to hospital with minor injuries. On-site excavating diggers were used to lift the tractor trapping the man.
Watch Commander Chris Love praised the transport and technical services department, which he said had helped "tremendously" to get the man out safely.