Baby ormers lost to sea in Jersey after straps cut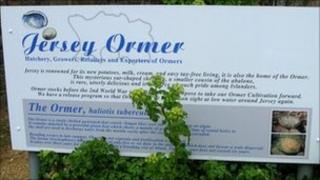 Nearly £5,000 worth of ormers have been lost after someone damaged an undersea ormer farm near Gorey Castle.
States of Jersey Police think straps keeping 12,000 baby ormers in cages were deliberately cut.
The owner noticed some had been washed ashore and when they were examined it was clear they had been cut.
The cages were always under water and it was thought whoever cut them, realised they were baby ormers and left them.
Six cages were affected, each containing 2,000 ormers that had been growing for six months.
The cages are owned by Ormers and Scallops of Jersey which is working with the Jersey Fisherman's Association to increase the population of ormers around Jersey.
Company director Marcus Taylor said nearly £5,000 worth of ormers were lost, some of which would have been released into the sea.
Mr Taylor said: "Those would be done in a very careful, very planned and protected manner.
"The right location to give them the maximum chance of survival would be looked for and they would be carefully placed there.
"Being washed away into the open sea is going to give them a very, very low chance of actually finding the right habitat and therefore surviving."