Jersey Police report fewer arrests as pubs open later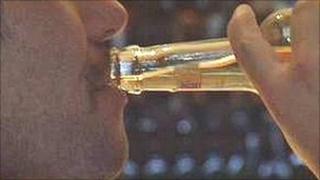 The States of Jersey Police said the longer opening hours for pubs made for a peaceful bank holiday weekend.
Licensing hours were extended on Friday from 2300 BST to 0100 BST to allow people to celebrate the Royal Wedding.
The police said they prepared for extra work, but instead there were fewer drink-related arrests than usual.
The police also said the "extended licensing hours produced a different dynamic" and the town centre had "a more relaxed, cosmopolitan atmosphere".
Insp Alan Williamson said: "This provides some food for thought when considering an island strategy for managing the night-time economy.
"Dealing with the night-time economy is not solely a policing issue, the industry and the community as a whole have an important part to play in agreeing how best to respond."