A £3 stamp is being issued for the Queen's birthday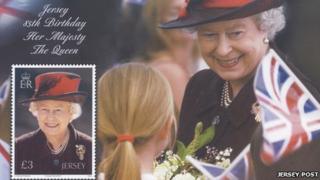 A special £3 stamp is being issued to celebrate the 85th birthday of Her Majesty the Queen on the 21st of April.
The picture on the stamp and accompanying sheet, shows the Queen during her last visit to Jersey in 2005, when islanders were celebrating the 60th anniversary of Liberation from Occupation by German forces.
Melanie Gouzinis, Jersey Post's Philatelic researcher, said: "We liked the idea of using photographs of Her Majesty whilst she was visiting Jersey in order to highlight her affection for the island which is so apparent in the images."
Jersey Post said: "During an address to the crowd in Liberation Square, Her Majesty recalled how the islanders had impressed her with their ability to put behind them such difficult times and that the special privileges granted to them by the Crown so many centuries ago, had formed the basis of the success the island of Jersey enjoys today."
The stamps come in special presentation packs with a souvenir miniature sheet.
Photographs on the packs show the Queen taking the Royal Salute on horseback during the Trooping of the Colour.
21-gun salute
Mrs Gouzinis added: "As a final touch in depicting the Queen on her birthday, we selected photographs of her as a young girl for the First Day Cover envelopes.
"The black and white images depict the Queen as an elegant young girl, at the ages of two and nine."
Meanwhile on the 21st April, in honour of the Queen's birthday, the 1781 Jersey Militia will make their tribute to Her Majesty with a 21-gun salute using their 18th century cannons.
It will be at Glacis Field at Fort Regent at 1630 BST and will last around eight minites and finish with a mass volley.