Kitten and hamster rescued from chip pan fire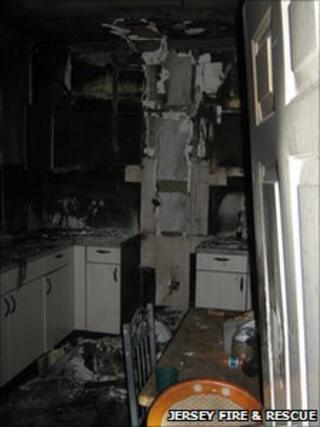 A kitten and a hamster had to be rescued and homes evacuated after a chip pan fire at a home in St Saviour.
Jersey's Fire and Rescue service attended what they described as a "severe fire" in the kitchen of a semi-detached house at Grasett Park estate.
The Fire Service said they received "multiple calls" from concerned neighbours about the fire on Tuesday evening.
The kitten was given immediate care by the nearby Vets centre.
The Fire Service said a woman was at home alone when her smoke alarm alerted her to the fire in her kitchen and, after attempting to close the kitchen door, she made a sharp exit.
Two fire engines were sent to the house at 2020 BST, and fire crews were there for more than two hours clearing damaged belongings and ventilating smoke filled rooms.
They also made sure the fire had not spread to a neighbouring property which had been evacuated.
Watch Commander Larry Vibert said: "Once again occupants have been alerted to and escaped unharmed from a property involved in fire by the early warning of a working smoke alarm, which has enabled the Fire and rescue service to arrive quickly on scene and prevent unnecessary damage to the property."
"The Fire and Rescue service would like to remind the public the importance of fitting and regularly testing this life saving piece of equipment and that advice is always available."