Name change for St Helier parish wardens in Jersey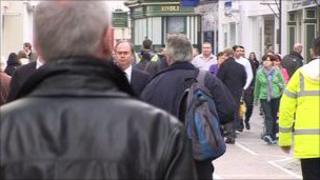 Parish wardens in St Helier are to become the community support team to better reflect their role.
The team of five full-time officers support the community with duties such as monitoring car parking and patrolling the streets.
The current dress code is also being changed from a yellow hi-visibility vest and navy jumper, to a royal blue uniform with the St Helier crest.
It is hoped it will make them look less like traffic wardens.
Darryl Parker has been a parish warden for nearly four years and said that what he wore was a key part of the role.
He said: "It is the most important thing about the job itself, it is the uniform, it is the first impression.
"I've had negative approaches from people, people have walked across the road in a drunken state to shout verbal abuse purely because they see a yellow jacket walking the streets at eight or nine at night."
Mr Parker said that the work the officers did was improving the community.
"I think we are making a huge difference in a few of the residential parking areas.
"Mainly for the parking, but they are getting dog fouling cleared up, they are getting anti-social behaviour cleared up.
"Any other issues that parishioners come up with are monitored and dealt with every single day."