Two evacuated in Jersey restaurant fire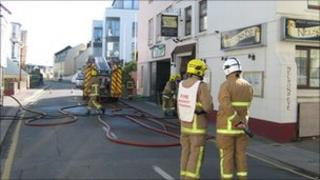 Two people were evacuated from their home after fire broke out in a Jersey restaurant.
Neighbours of the Nelson's Eye in St Helier alerted the fire service on Saturday morning.
Two firefighters wearing breathing apparatus entered the restaurant to discover a small fire in seating upholstery. The cause of the fire is under investigation.
The flat above the restaurant was evacuated.
There were no reports of injuries.