Jersey shopping centre 'cleansed' by medium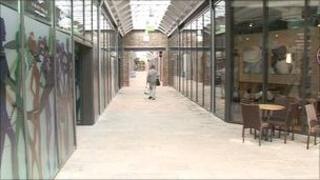 A psychic medium said she performed a "cleansing ritual" at a former abattoir site which is now a shopping centre.
The St Helier Constable said a shopper contacted the town hall with concerns about the spirits of the animals slaughtered at Liberty Wharf.
Simon Crowcroft confirmed that a meeting was set up with the medium to discuss a "cleansing" to clear the centre of "animal spirits".
Psychic Rhianna Hughes said she did not find any signs of spirits there.
She said: "The energy at Liberty Wharf was very flat and soul-less."
Ms Hughes said: "I was met down there by one of the security guards and I went in, I took some herbs and oils that I had made up, and I sprinkled them around and I said some words."
Constable Crowcroft said: "Liberty Wharf needs every customer it can get at the moment in a recession and if these actions persuade a few more people to go in there then everyone should be pleased."
First Call Security who look after the security of the site confirmed that the ritual took place.
A spokesperson said it was because of "the historical implications of the site".