Appeal set up for Trinity crash victims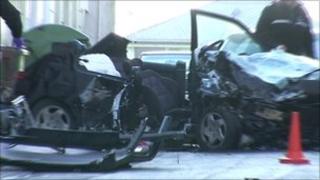 The family of four of the people seriously injured in a car crash in Trinity have set up an appeal.
Victor Santos said his brother and sister-in-law were injured and he has put collection boxes in Portuguese cafes and shops in the island.
The husband and wife remain at Southampton Hospital after being flown there with two of their children following the crash.
Mr Santos said he fears his sister-in-law may not walk again.
The 32-year-old woman remains critical but stable on Southampton's Neuro ICU and her husband remains critically ill in Southampton's general ITU.
Their children, a boy aged seven and a girl aged five, both remain on a general ward in Southampton.
He said: "My brother and sister-in-law will be out of work for a long time and the money we raise can help pay the bills."
Eight people in total were injured in the three-car collision on Sunday 6 March outside Trinity Stores.
And an 18-month-old girl remains stable in Robin Ward at Jersey's General Hospital.