Bankers build new 'bat tunnel' at Durrell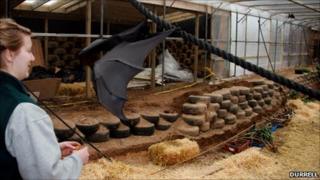 Fruit bats in Jersey have had a new "bat tunnel" home built for them at the Durrell Wildlife Conservation Trust.
A five-month project to create the tunnel was completed at the weekend.
The walls of the tunnel, which is home to the Livingstone's bats, were made from 800 tyres, which would otherwise have been shipped away as waste.
The public areas of the tunnel were rendered with mud and fitted with windows made from bottles, before the roof was installed.
More than 330 HSBC staff were involved in the work on the enclosure which took more than 2,000 hours.
'Perfect conditions'
A heating system has also been fitted in the tunnel, which has been funded by the bank, and will create the "perfect environmental conditions" for the tropical bats.
Mark Brayshaw, head of animal collection at Durrell, said: "What we have now is a structure that is far more energy efficient, a vastly improved facility for the viewing public and, most importantly, provides a much better environment for the bats.
"With its native forest habitat in the Comoros islands coming under growing pressure from a rapidly expanding human population, the Livingstone's fruit bat faces a real risk of extinction, adding further importance to our conservation programme for them at Durrell."
Nick Winsor, Chief Executive Officer of HSBC Offshore Islands, said: "This has been a major project for our staff and I am delighted that they have committed themselves to it so enthusiastically over the past five months."
Livingstone's fruit bats are one of the largest of the 1,100 species of bat.
They have a wing span of up to 5ft (1.5m) and experts at the Durrell Wildlife Conservation Trust said they faced the greatest risk of extinction.
Very little forest remains in the islands of the Comoros where the bats live.
The first Livingstone's bats arrived at Durrell in 1992.
The species, who live on the steep forested slopes of the Comoros islands, had never been kept in captivity before.
Durrell said it was a difficult exercise to catch enough bats to start the captive breeding programme designed to safeguard the species from being wiped out.