There are no plans to knock down Fort Regent pool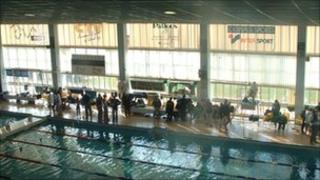 There are no plans to demolish the former swimming pool at Fort Regent, according to the politician responsible.
Constable John Refault said it would not be knocked down until the future of the whole Fort had been decided.
Deputy Kevin Lewis called for it to be demolished and said it was beyond repair because of repeated vandalism and graffiti.
Politicians were told that demolishing the pool would cost up to £1m.
The swimming pool building is to be boarded up, at a cost of £30,000.
Constable Refault said it would be sealed off and offensive graffiti removed.
He said: "What we are currently doing is awaiting the outcome of the Fort Regent steering group report.
"The report will influence any decision taken on Fort Regent swimming pool, which is effectively beyond repair.
"It has been identified that the costs are mostly associated with asbestos within the roof structure within the inside of the building."
The Fort Regent swimming pool was closed in 2003 by the States of Jersey.