Two Jersey people remain in intensive care after crash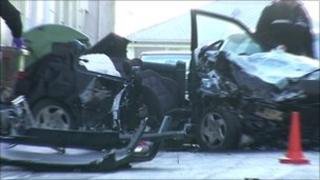 Two people remain in intensive care more than a week after a car crash in Trinity, Jersey.
The 32-year old woman and 34-year old man are being treated at Southampton Hospital after the crash on 6 March.
Two children who were also flown to the UK for emergency treatment are now on general hospital wards after being moved from intensive care.
A total of eight people were taken to hospital after the crash involving three cars outside Trinity Stores.