Ex-Jersey police chief Graham Power in vendetta claim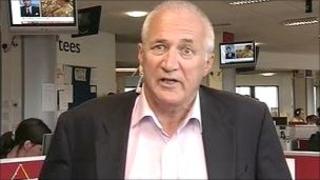 The former Jersey police chief, Graham Power, has accused the home affairs minister of carrying out a vendetta against him.
The claim comes after further details of a Wiltshire Police report into the handling of the historic child abuse inquiry were released.
Mr Power was unhappy that Senator Ian Le Marquand released the rest of the report without a right of reply.
The senator accused Mr Power of making a "song and dance".
Mr Power was suspended in 2010 but no charges were made against him.
He said the findings of the report by Wiltshire Police included allegations that had not been tested.
A shorter version of the report was published in 2010 and now 300 pages that were left out have been released.
Among the findings were that Mr Power was unable to control the media strategy and that this led to sensationalist and damaging press coverage.
'Brings shame'
But Mr Power accused the States of continuing to persecute him.
He said: "This is a state-sponsored, taxpayer-funded, personal vendetta.
"It brings shame upon the minister, it brings shame upon the Jersey government and it has to stop.
"I will stand up and fight against it every time this nonsense continues."
The home affairs minister said the report was reasoned and well thought through and accused Mr Power and one of his supporters, Deputy Bob Hill, of make "a song and dance about it".
Senator Le Marquand said: "It is sad to see a senior States member like Bob Hill now trying to keep the truth away from the general public - that is not his style at all."
The report found that by not establishing any strategic oversight Mr Power was unable to see there was no effective media strategy.
It also said that hastily-written and inaccurate press releases had been sent out.
Mr Hill said that Chief Minister Senator Terry Le Seuer had already said Mr Power was innocent.
"I find it hard to believe that Ian [Le Marquand] can justify producing a document because he has been asked to by certain States members.
"I am all for openness; I would welcome the opportunity, as indeed Graham Power would have, to attend a formal discipline board so this highly confidential, personal information, which is on every page of this document, could be fully discussed.
"I am surprised and disappointed that Ian could come along months after everything and put them out in the open without any explanation."