HMS Severn 'star' of 2011 Jersey Boat Show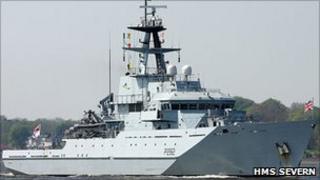 HMS Severn will be the "star attraction" of the 2011 Barclays Wealth Jersey Boat Show, said organisers.
The 79m river class offshore patrol vessel, which weighs 1,677 tonnes, is mainly deployed for fisheries protection.
The ship will be arriving in Jersey on Friday 29 April and will berth alongside Albert Pier for the show.
The HMS Severn will be open to visitors during the boat show which will run from Saturday 30 April to Monday 2 May.
Myra Shacklady, commercial director of the States department that organises the event, said: "Last year we were lucky enough to host her sister ship, HMS Mersey, so it is wonderful to have a different vessel and crew for the public to enjoy and meet.
"I would like to take this opportunity to thank the Royal Navy for their continued support - not all boat shows are lucky enough to host a working Royal Navy warship."
The Jersey Boat show is in its fourth year.
HMS Severn will be joined in Jersey by HMS Raider, an Archer class patrol and training vessel assigned to the Bristol University Royal Navy Unit.