Islanders warned of nesting gulls on roofs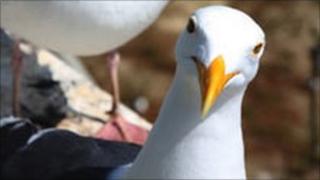 Jersey islanders have been advised to contact a qualified pest controller to remove seagulls nesting on their roofs.
The department of the Environment said people should act now before the birds lay eggs.
Gulls start looking to nest in February so acting early can save money and is less traumatic for the gulls.
But the department warns if nothing is done by May, the eggs can hatch and removing them then will mean killing the chicks which is not acceptable.
Seagulls are protected under the Conservation of Wildlife (Jersey) Law 2000 and the removal of eggs and or nests can only be by those licensed to do so.
People are advised to check their roofs, and protect their rubbish to prevent the gulls from being attracted to and feeding on it.
Herring Gulls breed in colonies and build large nests out of vegetation. From late April they can lay two or three olive green coloured eggs blotched with black.
Incubation takes between 25-33 days and the young are fed by both parents for about a month.