Smoking could be banned in cars in Jersey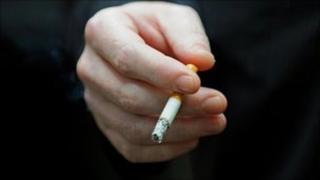 Jersey's public health department is considering whether to ban smoking in cars.
It comes as a British Lung Foundation petition was presented to the UK Government calling for a smoking ban in cars carrying children.
Andrew Heaven, Jersey's head of health improvement, said officials were considering extending the smoke free legislation to all motor vehicles.
He said the public health advice was to encourage people not to smoke in cars.
As part of Jersey's smoking in the workplace ban since 2007, smoking has been banned in work vehicles that are used by more than one person.
Public consultation
Mr Heaven said: "We have written into our tobacco control strategy a commitment to assess and review the evidence of extending the smoke free legislation to all motor vehicles."
He said public health would look at the evidence and consult the public before a decision is made.
Mr Heaven said: "There is also another side to this, the Highway Code advises against smoking whilst driving because it causes a distraction, and there are similar issues around mobile phones, so there are health issues but there are also driver safety issues as well."
But Simon Clark, from the smoking lobby group Forest said, it had been "blown out of proportion and their research shows 84% of smokers wouldn't dream of lighting up with small children in the back of the car".
He said: "In recent years smokers have become increasingly considerate to people around them and especially children, so why do we have to have yet another ban to solve a problem that frankly is not a major problem in society?"
Dame Helena Shovelton, Chief Executive from the British Lung Foundation, said: "We are very pleased that Jersey is considering a ban on smoking when children are in the car.
"With so many children being put at risk we are urging the UK Government to follow Jersey's example."