Blue Islands launch new London City air link for Jersey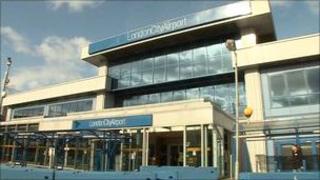 Islanders will be able to travel to a new London airport from April as Blue Islands launch a new route between Jersey and London City.
The Guernsey-based airline will be the third operator on the link following on from Flybe and VLM Cityjet who were not able to make the route pay.
There will be two flights every weekday at 0725 GMT and 1715 GMT from Jersey starting from 18 April.
City Airport is in London's Docklands area near the O2 Arena.
There will also be flights on a Sunday evening at the same time as the weekday flights.
Chairman of the airline, Derek Coates, said the route would allow passengers to avoid the hassle and long check-in times at Gatwick.
He said: "This new service means that Jersey businessmen, whose time is valuable, can make the most of a day trip to London."
Blue Islands will operate an 48-seat aircraft on the route that will also fly to Geneva and Zurich when not going to London City.
Senator Paul Routier, assistant minister for economic development, said: "Good air links are vital to the economic well being of Jersey and none more so than a direct link into the heart of the City of London.
"This is great news for our financial community here in Jersey as well as for fellow businessmen in London and other linked European financial centres."