Claude Cahun's work to be exhibited in Paris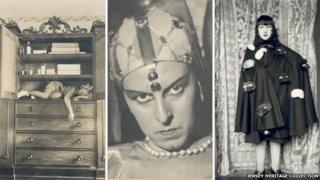 Jersey has been "put on the world art map" by an artist whose work will be shown at a famous art gallery in Paris.
That is according Val Nelson, the registrar for Jersey Heritage who manages collections there.
An exhibition of works by the surrealist writer and photographer Claude Cahun will be held at the Jeu de Paume.
Cahun lived in Jersey during the Occupation and her resistance activities during that time led to her imprisonment.
A death sentence was commuted and she was freed from prison when Jersey was liberated.
She lived in Jersey with her stepsister until her death in 1954.
The exhibition of her work will be at the Jeu de Paume in Paris and Jersey Heritage is the main lender to the solo exhibition in May.
The heritage trust houses one of the biggest collections of Cahun's work in the world.
It includes photographs, original manuscripts, first editions, and some of her books and personal material.
Ms Nelson said the exhibition is very important for Jersey's art community.
It is the first time Claude Cahun has been featured on her own in a major exhibition in Europe.
She said there have been exhibitions of her work in Jersey, but "the Jeu de Paume is a major gallery in Paris and the fact that they are recognising her as an important artist is very good for us".
Galleries from all over the world have been contacting Jersey Heritage about exhibiting Claude Cahun's work
But islanders do not need to travel to Paris to see Cahun's work.
Some of it will be displayed in the Art Gallery at the Jersey Museum when it reopens at the beginning of April.