Shopping centre 'desperate' for more retailers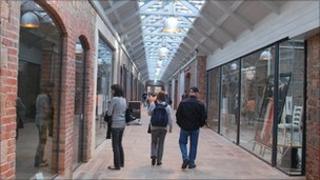 A café owner claims the Liberty Wharf shopping centre is "desperate" for more retailers to rent shop space.
Nicos Makariou, who owns the Fresh Food Bar nearby, said rents have dropped significantly in a bid to attract more business.
After several months of delay Jersey's new shopping centre Liberty Wharf opened its doors last November.
But four months on and a number of shops there are still empty. A new bar and restaurant is due to open soon.
Mr Makariou said the shopping centre is not attracting people to that area of town.
He said he considered renting a unit in Liberty Wharf before it opened but found it too expensive. However he said rents have now been reduced by almost half.
But Ray Cooper, Liberty Wharf's property manager, said they always expected the shopping centre to open in stages.
He said the retailers who are there are happy with the number of customers they get, and in the run up to Christmas 40,000 people visited the former abattoir each week.
And Mr Cooper claims about 30% of people who visit the town centre go to Liberty Wharf.
Mr Cooper said once Liberty Wharf is full, visitor numbers will increase significantly.