Sandie Shaw is Jools Holland's special guest for tour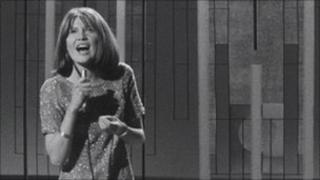 The singer Sandie Shaw will be coming to Jersey this summer with Jools Holland and his Rhythm and Blues Orchestra.
Shaw is Holland's special guest for the tour, which will be her first in over 25 years.
She was the first UK winner of Eurovision in 1967 with Puppet On A String.
Some of her other hits include (There's) Always Something There To Remind Me and Long Live Love.
More recently, she sung the title track for the hit British film Made in Dagenham which was released last year.
'Absolute icon'
Shaw also hit the charts in 1984 with her version of Hand in Glove, written by Johnny Marr and Morrissey of the iconic band the Smiths.
Her 1969 single Heaven Knows I'm Missing Him Now helped to inspire the Smiths' angst-fuelled anthem Heaven Knows I'm Miserable Now.
Holland said: "She is an absolute icon and I am really looking forward to sharing the stage with her on this tour, along with the great musicians we have in the Rhythm & Blues Orchestra."
Shaw said: "It was an absolute pleasure to be invited to come on tour. It has been a while but I am really looking forward to the show."
The Jersey gig is at Fort Regent's Gloucester Hall on 23 June.