Police still looking for cause of St Helier garage fire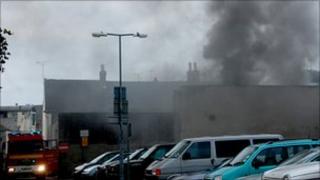 A 44-year-old man arrested following a fire in St Helier has been released from custody pending further enquiries.
Emergency services were called to a fire in a garage in Elizabeth Lane on Tuesday lunchtime and it was extinguished a short time later.
But later that evening, firefighters had to return after a second fire was reported.
Police said the investigation is continuing to find the cause of the fire.
DI Chris Beechey, from the Criminal Investigation Department, said: "At this time it is not possible to confirm whether the fires were caused deliberately or not".
Police thanked the members of the public who had already assisted in the investigation, but are still keen to speak to anyone with information as to the cause of the fires.