Children staying at Jersey Women's Refuge get blankets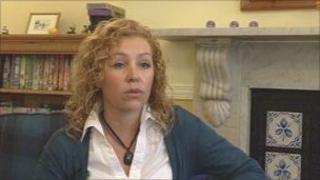 Children staying at the Jersey Women's Refuge have been given handmade "hug" blankets.
The refuge offers help for women in Jersey, but last year it also housed 60 children.
The blankets are part of Project Linus, named after the Snoopy character who would not go anywhere without his blanket.
It is an international initiative to bring a bit of comfort to children, in the form of blankets.
The blankets are made specifically for the children and come with a letter explaining the "hug blanket is made with love for them to keep".
Project Linus has also donated blankets in Jersey to the Special Care Baby Unit and Robin Ward at the General Hospital and two secondary schools.
Lorna Kearney, manager of the refuge, said the last batch of blankets had different patterns and she was "stunned to discover that they were made by a woman who can only knit with one hand".
Sarah Jordan, the Project Linus UK Channel Islands co-ordinator, said they always needed donations of blankets and quilts, or any wool, yarn and cotton fabrics.
Project Linus volunteers make the blankets for seriously ill, bereaved and traumatised children, aged up to 18.