A man is arrested over a fire in St Helier garages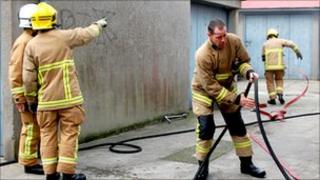 A 44-year-old man has been arrested following a fire in garages in Elizabeth Lane in St Helier.
The man remains at Police Headquarters assisting with inquiries after officers said the fire was being treated as suspicious.
Experts are still trying to determine the cause.
Although the fire was brought under control early on Tuesday afternoon, crews were forced to return when a second fire started.
It is thought the heat or ash from the earlier fire caused the later blaze in two adjoining garages.