Changes to St Lawrence kerbside recycling scheme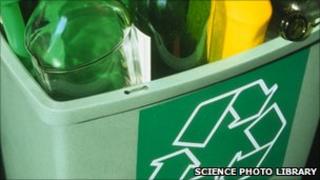 Improvements are being planned for the St Lawrence kerbside recycling scheme.
Parishioners no longer need to separate paper and cardboard for recycling as these will be collected together.
And recyclable paper, cardboard, plastic bottles and cans will be collected on the same day as glass, beginning next month.
The St Lawrence recycling scheme has been operating since 2009 and a survey of households carried out by the parish found 92% in favour of it continuing.
A new refuse and recycling contractor, Germbusters, will be responsible for the kerbside collections in St Lawrence. It is also in charge of collecting
St Lawrence Constable Deirdre Mezbourian said: "It is important that everyone in the parish feels involved with our kerbside recycling scheme and I think this is key to the scheme's continued success."
Recycling Officer Emma Richardson said she hoped the changes would encourage people to recycle more of their household waste.