Jersey consumer council calls for post contribution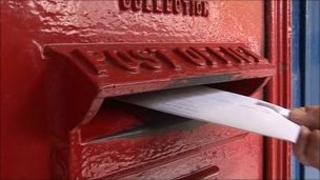 Jersey's consumer council have said that companies given licences to handle mail should contribute towards the running of Jersey's postal service.
The consumer council has written to the competition watchdog with concerns about the future of postal services.
Two companies have been granted a licence to operate corporate postal services in the island in competition with Jersey Post.
Jersey Post has seen its costs rise as the volume of mail has fallen.
The main competition for Jersey Post will be in an area it relies on - large packets and parcels - while still having to maintain its six day a week home delivery service.
Senator Alan Breckon, consumer council chairman, said there was a solution that could help.
He said: "The post office do have to do the daily things, collections and deliveries from all over the island and that is an expensive thing to do.
"If others are cherry picking then it is fair and reasonable they should make a contribution to the core service."
It would mean the two companies already granted a licence would have to pay as well as any newcomer to the island.
The council is also suggesting removing Monday from the daily delivery schedule to make it a Tuesday to Saturday service.