A fire in a garage in St Helier is 'under control'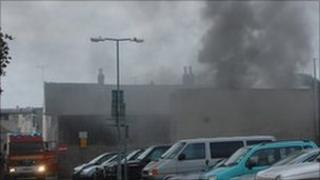 A fire in a garage in the Cheapside area of St Helier has been brought under control.
Thick black smoke could be seen coming from Elizabeth Lane, a small road that runs off Cheapside.
Jersey Fire and Rescue Service arrived at around 1245 GMT sending three engines to the scene.
It is thought the blaze started in a collection of garages. An investigation is due to take place to determine the cause of the fire.