More St Malo passengers visit Jersey by ferry last year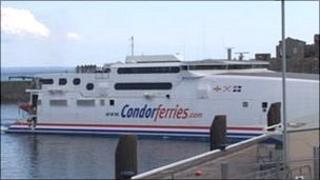 An increase in visitors from St Malo in France contributed to a rise in the number of people visiting Jersey by ferry in 2010.
But while sea arrivals were up, the number of people flying to Jersey was down by nearly 2% compared with 2009.
Figures show 232,918 people arrived by sea from St Malo in 2010, almost a 6% year-on-year increase.
More than a million people arrived in Jersey by both sea and air in 2010, the Economic Development Department said.
Condor Ferries said the rise in ferry numbers was due to the extra capacity on the Rapide ferry.
Steve Bailey, Condor Ferries' Jersey Manager, said the strength of the euro against the pound had also helped, and the ferry company has been "marketing very hard" in both St Malo and in Jersey.
But the figures from the Development Department showed big declines in passengers flying to the island from Zurich and Dublin.
Volcanic ash 'fallout'
Ian Taylor, the general manager of market development at Flybe, said: "The Volcanic ash fallout was extremely crippling for airlines and airports throughout the world and led to a number of airlines going out of business."
He said air arrivals in April 2010 declined 18.1% as a result of the ash cloud, and many passengers travelled by boat.
Mr Taylor also said that in December, Jersey Airport was closed and services were disrupted by ice and snow.
He said it was widely recognised within the industry that sea and rail carriers had benefited in 2010 from those conditions.
However the arrival figures record all arriving passengers including residents returning to the island and Mr Taylor said this tended to "skew numbers".