Jersey Finance to encourage China to invest in UK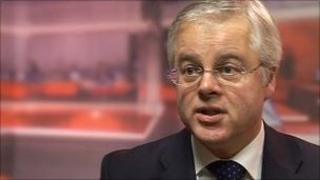 Jersey's finance industry is hoping to encourage more Chinese companies to invest in the UK.
Jersey-based finance companies are being used to bring Chinese money and expertise to the UK to help with green transport and energy projects.
Geoff Cook, from Jersey Finance, said the island had a role to play in bringing money from the Far East.
He said: "The Chinese as massive energy consumers are becoming increasingly concerned about pollution."
Mr Cook said: "They have great skills in certain areas, certainly wind energy and fuel efficient high speed rail.
"They are being invited to bid for £75bn worth of contracts to bring their capital and technical competency to the UK and I think Jersey can play a supporting role in that kind of activity."
The island was represented at a business event in London attended by Chinese and British politicians, officials and business leaders.
Mr Cook said island businesses are already involved in so-called clean tech industries and were hoping to tap into the Chinese market.
"I think we can encourage Chinese businesses to set up here, they are users of the jurisdictions services but they are not here physically.
"It is a little known fact that Jersey has a considerable amount of expertise in clean tech investment funds."