Jersey politicians vote for States reform plans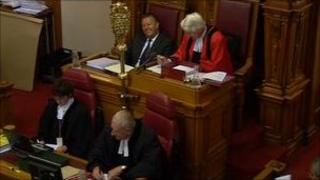 Jersey politicians have voted in favour of reforms to the make-up of the States of Jersey including a drop in the number of senators.
This is despite attempts to stop the reforms from some States members.
Plans will see a standard four-year term of office for all members, and a reduction in the number of senators from 12 to eight.
Politicians have also agreed to hold one general election day in the spring with all changes in place by 2019.
The reduction was agreed by 28 members, but opposed by 21 including Senator Alan Maclean.
Senator Maclean said: "As far as I am concerned I've been struck by the number of members of the public who have been shocked and disappointed at the thought of losing senators from this assembly.
"This is because it is the opportunity to have island-wide representation and that is something that has come through loud and clear."
Deputy Daniel Wimberley wants to see an electoral reform commission set up to look at Jersey's political system.
The St Mary politician said it would sort out how elections work and who represents the island in the States.
He said the current system was unfair and should not continue as it was.
He also thinks an independent group should look at the issue rather than politicians.