Jersey white house to stay green all year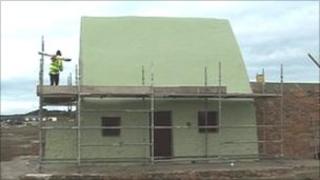 The National Trust for Jersey has confirmed Le Don Hilton in St Ouen's Bay will remain painted green until the end of the year.
The building, popularly known as the "white house" was re-painted to mark the trust's 75th anniversary.
The trust had faced some public criticism when the building went green at the start of 2011.
It said the the move was to encourage islanders to consider environmental issues.
The trust's chief executive, Charles Allutto, said the building will remain green all year in spite of the protests.
He said: "I do think you have to give it a heavy dose of realism in that it is just a coat of paint.
"There is an important message behind there, we haven't done it for a commercial reason, we haven't done it just to say the National Trust is out there.
"What we have done is said 'come on we all need to focus on making our lives greener'."