Call for 20 minutes free parking at Jersey airport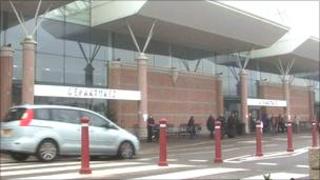 A Jersey politician has said Jersey Airport should provide more free parking when picking people up.
Deputy Andrew Green said although there was an area where drivers could wait for up to 10 minutes, it was not big enough and too far away from arrivals.
The politician responsible for the airport said they were looking at the issue of parking.
Senator Paul Routier said they hoped to introduce a free pick-up and drop-off zone in the future.
Deputy Green wants public parking at the airport to be free for up to 20 minutes.
"At the moment we pay per hour or part per hour, we have got the most expensive charges in the UK," he said.
Deputy Green said: "I just think as a gesture of good will [they should] put the customer first, just make it easier for people to pick up.
"In Bristol when you to pick up your relatives not only do you have that free parking facility but you can come right up to the door and pick up your family - why shouldn't you do that here?"
Senator Routier, assistant minister for economic development with responsibility for the airport and harbour, said they will examine the layout of the airport.
He said: "In the interim period and acting on public requests we have established a pick up zone adjacent to the departures terminal.
"Whilst this is not an idea location we see from the current usage that as a temporary measure it is well used."
Senator Routier said that the parking charges help cover airport costs.
"If we were to reduce the parking charges we would no doubt have to increase the charges to people flying.
"No parking is free, somebody has to pay whether it be the person using the planes or anybody else.
"If the States are prepared to give the £4m back it took away in December then there might be a bit more flexibility," he said.