Future of Jersey's Fort Regent under review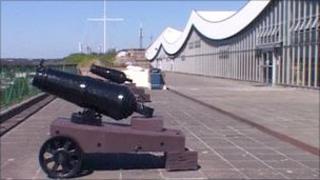 The future of Fort Regent in St Helier is still being decided by Jersey politicians.
A steering group of politicians discussing what should be developed there has now met six times.
They are looking at how to make the sport, leisure and club facilities there even better including plans to work more with the private sector.
They also want to bring the front entrance of the fort into town and keep the historic parts of the building.
The group argued that creating direct access to Fort Regent from the centre of town would encourage more people to visit the leisure facility.
Derek de la Haye, assistant director for sport and culture, said 10,000 people used the fort each week but he wanted to encourage even more.
Mr de la Haye said creating direct access from the centre of town would help.
He said: "It is a bit of a challenge going up that hill, if we were able to put access directly into St Helier, maybe at Snow Hill that would make a huge difference for people."