Call to scrap Jersey fishing quotas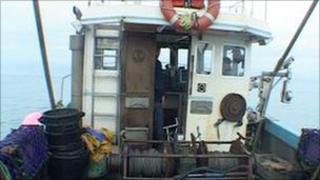 Jersey fisherman, Kevin Holden, wants to see fishing quotas scrapped with a restriction on commercial shipping instead.
Mr Holden said commercial fisherman should be restricted on how many days they can work at sea.
EU rules mean certain fish have to be thrown back, often dead, if too many are caught.
A campaign has been launched to stop these discards.
Mr Holden said it would make much more sense to protect fish stocks by limiting the number of days fishermen can work.
He said: "Always look at the simplest logical method and that is days at sea, all these discards are totally ridiculous.
"Days at sea you get 180 to 200 days a year and when it is used up you just stop fishing."
Simon Bossy, head of fisheries, criticised the policy of forcing fishermen to throw back fish - dead or alive.
"Everybody thinks it is a ridiculous situation but it is finding a solution to the problem.
"There isn't any gears that will separate these fish because they look the same, they are the same shape and they live in the same place," he said.