Jersey Odeon building listing decision to be taken soon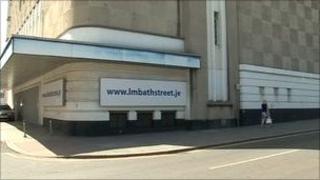 A decision is due to be made later which could see the former Odeon Jersey building demolished.
There is a public hearing at the Societe Jersiase in St Helier with the planning minister on the decision over whether the site will be de-listed.
The 1950s building has site of special interest status.
Its owner, Le Masurier, would like to see the building de-listed so it can be knocked down to make way for a £40m flats development.
Managing Director of the Le Masurier Group, Brian McCarthy, said: "Clearly we are looking for the decision to be determined as quickly as possible.
"We appreciate he needs afford himself more time to make that decision and we look forward to being resolved at the end of the week."
Campaigners, including Save Jersey Heritage, argue the old cinema is architecturally important.
It has been suggested the building be left intact and used to re-home the Jersey Arts Centre.
Christopher Scholefield, from the Save Jersey Heritage campaign group, said the building could prove useful again.
He said the old cinema had looked "tatty" for years but could be improved.
"We know the Arts Centre is looking for a new home. If the Arts Centre could move from their premises in James Street, sell that for development, then you would have a fighting fund for a building which turns out to contain two remarkably intact auditoria."
Mr McCarthy said his firm would leave the building empty if the listing was not removed.
"We will be withdrawing our £40m of investment in the north of town.
"The building will remain an empty building for the foreseeable future and we will continue to operate the car park operations which are proving hugely profitable now as a result of the displacement of town park and retail operations on Bath Street," he said.