Jersey's building industry 'had bad year in 2010'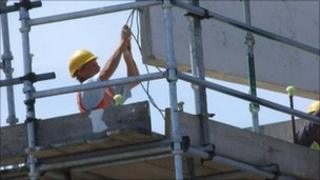 The building industry in Jersey had a bad year in 2010, according to the latest business survey.
It found construction businesses were feeling more negative than they had since the summer of 2009.
The survey showed that profitability, employment and business optimism was the worst it has been for 18 months.
Martin Holmes from the Jersey Construction Council says there is a general nervousness in the industry about the future.
The building industry makes up about 10% of the island's workforce.
Mr Holmes said builders always knew 2010 would be a challenging year but it was worse than he had expected.
He told BBC Jersey the negative feeling was due to an uncertain outlook.
Mr Holmes said: "Our industry works very much on business continuity, work in our industry is a very long lag between concept and delivery.
"Concern amongst members who have responded to the survey is that the outlook for 2011 is uncertain and difficult.
"I think we identified 18 months ago that the world financial problems were going to affect us locally.
"We worked very hard with the government then to try and secure some of the fiscal stimulus programme which came through the industry in 2010 and certainly helped."