Jersey signs tax agreement with Canada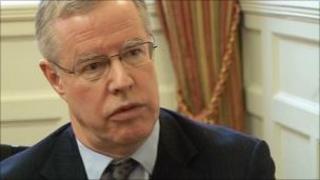 The Canadian high commissioner to the UK said a tax agreement signed with Canada could make the finance industry in Jersey more attractive.
James Wright came to the island to sign the first agreement with Jersey's chief minister before others are signed with Guernsey and the Isle of Man.
He said: "I am very pleased as the Canadian representative to be able to come and sign the agreement today."
Mr Wright went on to say that it was important for Jersey and Canada.
He said: "Very important for Jersey in terms of your economy, very important in terms of Canada to protect the investments we have been making here and that we hope to make in the future as well."
The agreement that will allow for more transparency between Jersey and Canada's governments.
Mr Wright said: "Jersey and Canada have been committed to signing this agreement.
"Essentially what it does is confirms the gold standard in terms of international financial regulation on the part of Canada on Jersey.
"It opens the door for new Canadian investment in Jersey put also puts the Canadian investment that is already here on an equal footing with everyone else who is already on the island."