Home plans delayed for Jersey Pontin's site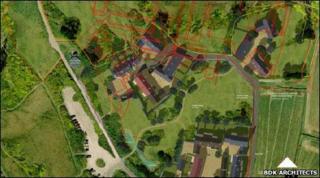 A "last-minute hitch" has held up plans to develop a former holiday park, Jersey's government has said.
The architect, BDK, has submitted plans for 28 homes at Plemont, returning part of the former Pontin's site to nature.
But the planning decision on the project has been delayed because the States owns part of the land, and may needs to grant approval.
Andrew Scaite, chief executive of planning, said the land boundaries may be changed so the plans can be passed.
Mr Scaite told BBC News: "Simply put, either all landowners sign the application, or the boundary gets changed to cover those land ownerships where permission does exist.
"So there's one of two options either a boundary change or a signature from the landowners."
The plans by BDK, unveiled in November 2009, involve the creation of three, four and five-bedroom homes on the south of the site, leaving two-thirds of the site undeveloped.
The planning and environment minister, Senator Freddie Cohen, told BBC News: "The applicants put in an application showing bits of land relating to the application that they claimed that they owned, that property holdings are claiming that the public already owns.
"Therefore while there's a land dispute we can't determine the application in it's entirety."
Mr Scaite said: "The States of Jersey has been gifted the other segment of the site, so it's Jersey property holdings on behalf of the public who own the land that's in dispute.
"This is unfortunately just last minute bureaucratics on the planning application form."