Jersey historic abuse investigation ends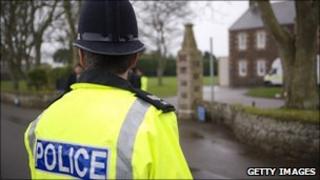 Jersey police have announced the end of a three-year long investigation into historic child abuse in the island's care homes.
From September 2007, police took 1,776 statements from 192 victims, identifying 151 alleged abusers.
Seven people were successfully prosecuted in Operation Rectangle, which cost £7.5m.
The investigation began after allegations of abuse at former children's home Haut de la Garenne.
More than half the alleged offences were committed at the home and more than half of the offences reported were sexual. The rest were assaults or claims of neglect and ill treatment.
Although there were no more prosecutions expected in the historic abuse inquiry, Jersey police said they would continue to thoroughly investigate all allegations of abuse.
Thirty of the alleged offenders had died before they could be prosecuted.
Those found guilty were:
Gordon Claude Wateridge was found guilty of assault on three girls while he was a house parent at Haut de la Garenne between 1969 and 1979.
Claude James Donnelly was jailed in June 2009 for 15 years for rape and indecent assault.
Michael Aubin was given two years probation for various sexual offences at Haut de la Garenne between 1977 and 1980
Ronald George Thorne was sentenced to 12 months in prison for gross indecency between 1983 and 1984
Leonard Miles Vandenborn was jailed for 12 years for the rape and indecent assault of two young girls in the 1970s and 1980s.
Morag and Tony Jordan, former house parents at Haut de la Garenne, were found guilty of assaulting children in their care. The couple, of Angus, Scotland, will be sentenced in January.
David Warcup, Acting Chief Officer of the States of Jersey Police, said: "Investigations of this nature are particularly difficult and protracted, especially for the victims, and officers have worked hard to ensure that the needs of victims have been met.
"Every allegation or complaint has been given full and proper consideration and all possible lines of enquiry have been pursued.
"At this point in time, there is no evidence from which it would be possible to mount any further prosecutions.
"Should evidence become available then the force will review this to determine what, if any, further action should be taken."