Jersey Bailiff's dual role should stop - Lord Carswell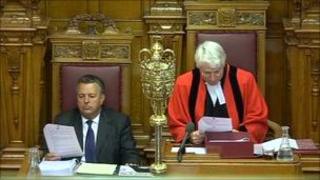 Jersey's Bailiff should stand down as the President of the States and should be replaced by an elected speaker, an independent report has said.
The document, from a group led by Lord Carswell, said the Bailiff's dual role as leader of the States and of the legal system needed to be separated.
There have been several investigations into the role of the bailiff in the past.
In 1947 and 1973 they concluded there was no need to change the status quo.
In a statement, the Bailiff Michael Birt said: "The report provides much food for thought and merits careful and mature consideration of the issues raised and the panel's recommendations."
A report by Sir Cecil Clothier in 1999 concluded that there was a risk of a conflict of interests between the dual roles and this has been echoed in the Carswell report.
In making its recommendation, the panel said there had to be a guarantee of impartiality from the Bailiff when making and then administering laws.
It said there was a risk, or perceived risk, that that might not be the case.
The report refers many times to the need to appear impartial and says the current arrangement fails to present to the wider world the image of a modern democratic state.
Lord Carswell said there was also the potential for the Bailiff to be in breach of European human rights laws.
He said it would not be good for the island's reputation if it was forced to make the change instead of making it voluntarily.
Jersey's Chief Minister, Senator Terry Le Sueur, said it was too early to make a comment.