Afghanistan cricket film gets peace and sport award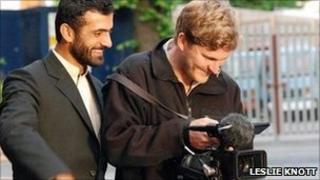 A film featuring a cricket tournament in Jersey has won a major prize from a body which promotes peace through sport.
Out of the Ashes, about the Afghan cricket team's efforts to qualify for the sport's World Cup, has been awarded the special jury prize.
Much of the first half of the film is set in Jersey as Afghanistan compete in the world cricket league division five.
Valerie Amant, from the Peace and Sport Organisation, praised the film.
She said: "It talks about a lot of issues that are really dear to everybody's heart, it was very well done and very touching.
"I don't want to comment on behalf of the jury members on why they chose this project over other projects."
Out of the Ashes traces the story of the Afghan cricket team over three years.
It starts with the fledgling team playing on rubble pitches against a backdrop of war and poverty and follows them as they appear in the World Twenty20 event in the West Indies.
In the Twenty20 they compete alongside the leading nations such as Australia, England and India.