St Helier town centre reopens after bomb scare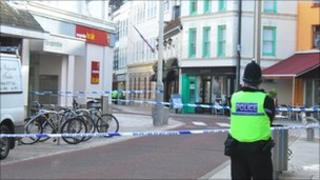 St Helier's town centre has reopened after a bomb scare led to police evacuating shops and homes earlier.
The suspect package was found to be safe by specialist officers from Guernsey.
The Guernsey bomb disposal experts had to fly into Jersey to deal with the incident in Charing Cross.
Police were called at 0916 GMT about the suspicious package, which turned out to be personal documents.
Experts from Guernsey confirmed the package was safe at about 1240 GMT.
All residents and businesses returned to their buildings and the roads reopened soon after.
Insp Sara Garwood, from the States of Jersey Police, said they always took a cautious approach.
She said: "Incidents such as this, although rare, will always require a cautious approach in the first instance and we are pleased that the incident is now resolved safely.
"We would like to apologise for any inconvenience caused and take this opportunity to thank members of the public for their co-operation and understanding."