Jersey home couple found guilty of assaulting children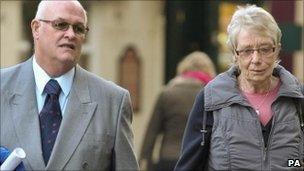 A married couple who worked at the former Jersey children's home Haute de la Garenne have been found guilty of assaulting children.
Morag Jordan, 62, from Kirriemuir, Angus, was found guilty of eight charges of assault against four children in the 1970s and 1980s.
Her husband, Anthony, 62, was found guilty of eight charges involving two boys at the home.
They are due to reappear at the Royal Court to be sentenced on 6 January.
During the two-week trial, the Jordans were accused of inflicting "casual and routine violence" while working as houseparents at the home.
Prosecutors said they acted like "intimidating bullies" and had carried out "frequent and callous" assaults on vulnerable residents.
Morag Jordan's conviction related to assaults on four children who stayed at the home.
One child had her face pushed into urine soaked sheets after she had wet the bed, the court heard.
Mrs Jordan also hit residents with her hand and with a wooden shoe.
Her husband hit children with a metal spoon, a knife or with his hand, the court heard.
Mrs Jordan was acquitted of a further 28 charges and Mr Jordan of four.
Speaking outside the court, former residents who gave evidence during the trial said it was a "mixed result", but that they could now "draw a line" under their experiences.
In a joint statement they said: "The general consensus was there were abuses carried out and it has finally been recognised in a court of law.
"We are happy we have been believed after all this time."
The physical assaults carried out by the Jordans were "indicative of the regime", the victims said.
They added: "Hopefully the States of Jersey will recognise there were abuses at Haut de la Garenne and issue an apology."
Insp Sara Garwood, from the States of Jersey Police, said it was a successful conclusion to an investigation within the historic abuse inquiry.
She said: "We recognise the courage of all the victims for giving evidence in this case and hope that the verdict helps to bring closure to these serious offences.
"The force has highly skilled specialist officers trained in this area of work, and the States of Jersey Police remain committed to bringing offenders to justice."
The Jordans were released on bail. They declined to comment after the verdicts.
Related Internet Links
The BBC is not responsible for the content of external sites.