Jersey rally against GST rise and States spending cuts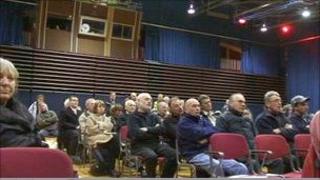 A rally against tax rises and government budget cuts was attended by about 450 people at Jersey's Fort Regent on Wednesday evening.
The treasury minister, Senator Philip Ozouf, wants to raise the Goods and Services tax (GST) to 5% and cut £65m from States spending.
He was called "Pinocchio" at the union rally for breaking a promise made in 2008 not to increase GST.
But Senator Ozouf said he was standing by plans to ensure a "stable economy".
"I'm not aiming to be popular, I am aiming to be regarded as being responsible. I am the custodian of the public finances," he said.
"I regret that I have had to make difficult decisions in terms of our public finances... but this is not only my plan, this the plan of the Council of Ministers based upon the best expert advice."
A petition calling for Senator Ozouf to be dismissed as treasury minister has been signed by about 1,000 people.
Chief Minister Senator Terry Le Sueur said he had full confidence in Senator Ozouf and in all his ministers.
Wednesday night's rally was organised by the Unite union
Their representative Nick Corbel said: "There are wider issues here, the budget proposals will hit the community, hit them hard.
"I think those who will be most affected by the budget proposals will be the sick, the elderly, the vulnerable and the low paid."
Unite is now planning to ballot its members about possible industrial action over the planned government spending cuts.